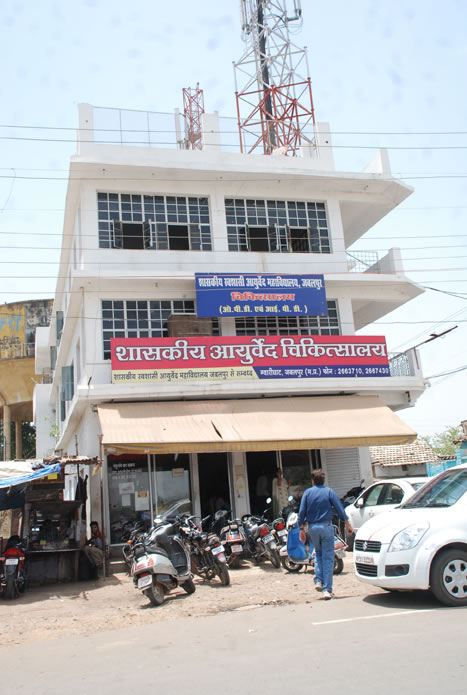 Hospital – Govt. Ayurvedic hospital is running with 7 departmental OPD & each department is seen by specialized is running successfully various OPD'S according to the specialization Like – Kaya chikitsa, Shalyatantra, Shalaky tantra & Swasth – Rakshana. Our consultant are allotted specific days in OPD.
The Hospital is having IPD facilities with total patient capacity of 100 beds situated near Gwarighat Bus Stand and are allocated as ……departments. 7 Clinical Department having O.P.D. & I.P.D.facility. Hospital is also manage with well trained Nursing staff talking one of patient in day night.
Hospital is having well equipped and well manages operation theater conducting minor surgery procedure are performed routinely by specialized surgeon. Special training for Arorectal …….. like Ksharsutra ( Ayurvedic medicated thread ) treatment as the ….. available treatment for piles & ……. in Ano with minimum reccuruncerate.
Other para surgical procedure like Jalokavacharn, agnikarma, siravedha are also conducted on the number of patient coming to Shalya OPD.
Procedure like – Netratarpan, Shirodhara, Seka, Aaschyotan & Anjan are perform by Shalakya department on the patient with suffering from eye diseases.
There is a seprate well equipment hospital for various panchkarma therapies like ……swedna, vaman, virechana, Anuvasanbasti, Asthapanbasti & Nasyakarma. Various massage treatment method. The …. Of different techniques of oil application and use of ….. method with specialized techniques preformed by specially trained male & female panchkarma attrnder, under the super vision of senior physician at very low cost for OPD patient & almost free for IPD patients.
Number of patient talking treatment for there chronic problem like Diabetics, Hypertension. Geriatric, allergy treatment Skin problem, Neurological.. is also available in the Kaya Chikitsa OPD by Specialized Consultant.
Free diet is provided for IPD patient & all these faculties are free of cost under the Scheme "Deendayal Yojan" M.P. State Government for poor patient & they get benefited with basic health care & need.
Medicine are available for both at OPD & IPD are dispensed to patient with free cost many …….. Employees of State Government are benefit by Pension Scheme budged allowed by M.P. State Government to our hospital.
Hospital is having their own Pathology enriched with the ……. Equipment & machinery conducting routine pathological investigation for the benefit of poor patient with minimum charges.
Medical Camps– Our hospital has running medical camps in various rural areas of Jabalpur district and free medical cheek up & free distribution of medical are done in each camps. Medical camps are also conducted in area of city so that patient & the citizen can easily benefited by hospital doctors.
I.P.D
Separate Male & Female Wards having facilities like free food & medicine to all the patients.
O.P.D
Kaya Chikitsa Department
Panchkarma Department
Shalya Department
Shalakya Department
Stri & Prasuti Tantra Department
Bal Roga Department
Swasthya rakshan Department
Each Department having specialist consultant & Doctors
Pathology
Hospital is having their own Pathology enriched with the latest Equipment & Reagents conducting routine pathological investigation for the benefit of poor patient with minimum charges.
Physiotherapy
We have fully functioning, well equipped Physiotherapy unit running in our college, with well qualified Physiotherapist available all six working days of the week.